Kim Berry - The Laid-back 1970s
LINKS TO OTHER 1970's PAGES
In 1970 I was finishing the sixth grade at Orvis Ring Elementary school near UNR when we moved to a home on Sagittarius Drive in southwest Reno. See Education.
Here's a group photo Halloween 1971: Left to right, sitting: Jay Scott Berry, Bill Henderson; standing: Tim Henderson, Mike Henderson, John Ganser, Joe Ganser, Eric Schuft, Kim (me), Ingrid Berry, and Piper Hendrix - and the dog Kawasaki.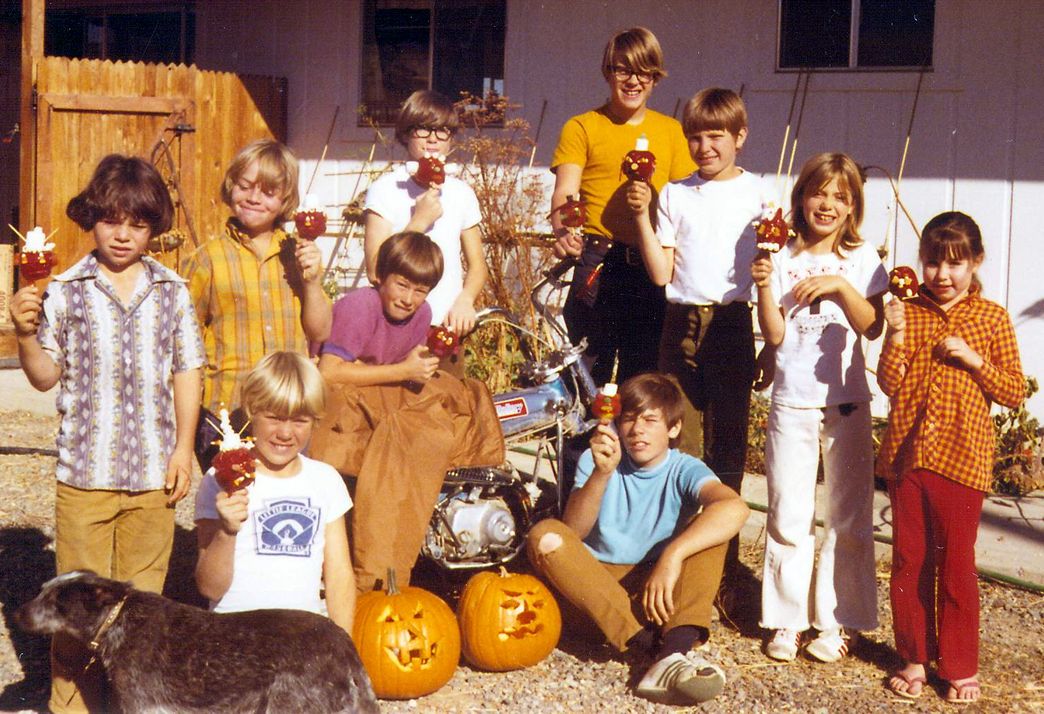 | | |
| --- | --- |
| | |
| Ingrid on bicycle in front of Sagittarius House - 1971 | Jay with his dog Barney - 1971 |
A big part of my life was dirt-bike motorcycles:
I attended Swope Middle School and Reno High School. At Reno High I was intrigued by the photography class. I spend a lot of money (about $250) for a Canon FTb and set up a black/white darkroom in by bedroom. (That is why some photos are black/white.) Here are some time exposures I took at night in Reno with the Canon:
Around 1970 we hiked up the mountain to the East of Pyramid Lake - I believe with my mother on a Sierra Club hike. Mostly I recall the cold wind. (Ingrid, Jay, Kim)
Here's a photo I had taken with my Kodak Instamatic of the other hikers:
Ed provides additional information about the hiker:
I think I recognize some of the people in the b&w photo. One is Dr. John Hallett of DRI. Others may be from the Sierra Club. So I think this was a Sierra Club sponsored hike, from the Reno chapter of the Sierra Club. I think it was called the Tiobe chapter. Maybe you can find a copy of their old newsletters listing hikes for these years and then pin the hike down to the day. (This was back when the Sierra Club was a simple hike in the mountains club before it was taken over by the Communists.)
Dr. Richard Sill (Sierra Club Archives), a physics professor at UNR, was a key person in the Sierra Club in Reno at that time. Sometime around 1980 he took flying lessons. While he was still on his learning curve he crashed while attempting to land on runway 270 (?) at Stead. There was a strong west wind and there is a large drop off on the east end of this runway. I always landed high on this runway when the wind was strong because I was afraid of the downdraft right off the east end of the runway (something that sinks in when you learn soaring before power flight). Dr. Sill came in as he had been taught to do in light winds: aiming to make a touch down close to the start of the runway. On a light wind day, it would have been a good landing. On this day, the downdraft forced Dr. Sill's plane down and he crashed into the down slope just before the runway began. Since he was a landing speed, he had no chance to pull up, or if he had tried he would have stalled and still hit the slope. He was in a small 2-place plane like a Cessna and he died in the crash.
Dr. Sill was the one who took me for my first hike up Mt. Rose, probably in 1961, when virtually nobody knew about this hike. If his wife, Marjorie, is still alive she may still have copies of the Sierra Club newsletters from 1961 onward. She published the newsletters. Of course, she may have tossed them all away after Richard died.
In 7th and 8th grade I delivered the Reno Evening Gazette after school, 30 houses, earning about $30 per month.
In 9th grade I worked as a dishwasher then assistant cook at family-run Spaughi's Italian Inn. When I gave two-weeks notice the owner took it too personally, berated me behind the bar in front of customers, and then told me not to come back. When he didn't pay me my mother sent this letter to him: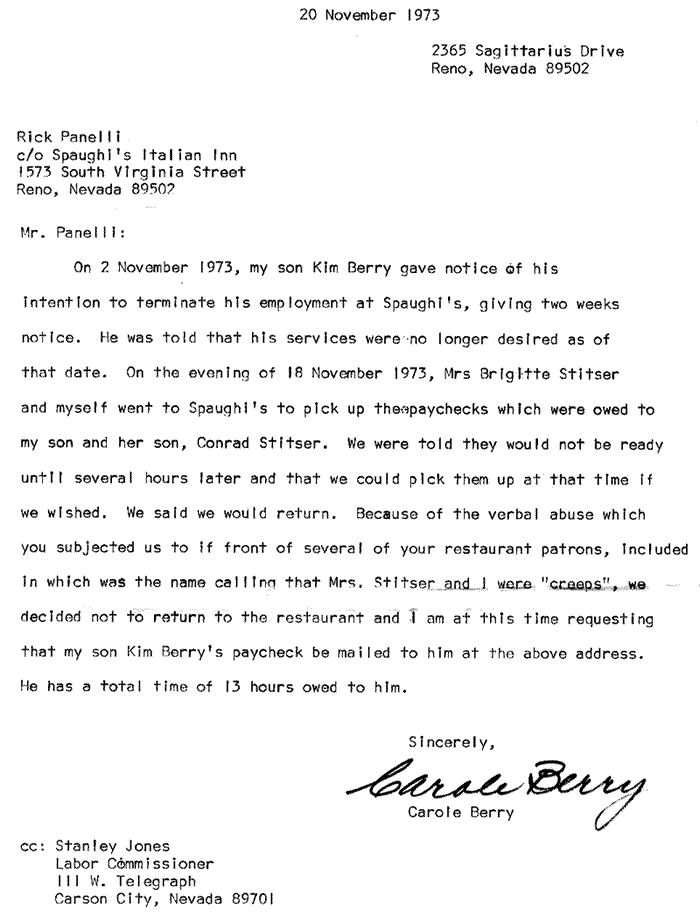 In 10th grade Conrad Stitser brought me over as a busboy at Pepe's Steak House at the Eldorado Hotel. His neighbor was the matre-di. On Sundays I worked the Champagne Brunch with Alana and Erin. We sipped on champagne through the shift that we hid in metal teapots.
Visit to Washington DC
In July 1974, still age 15, I quit the Eldorado job to fly to Washington DC to visit my father and Valerie, then drive back across the US as his job with National Science Foundation (NSF) transferred from DC to San Mateo, California. i still recall looking out the window and a few of the songs on the headphones:
Let It Ride - Bachman-Turner Overdrive
Roundabout - Yes
Interesting that 35 years later a flight across the U.S. has not changed – 5 hours in very similar airliner. probably the food was better then. (You can probably still hear those songs on one of the channels.)
My brother was already living with them in DC, so Jay and I spent some days alone touring sites like Smithsonian and the Mint. Then with my learners permit I helped drive to Denver - including through the night across Kansas. From Denver Jay and I took a flight back to Reno - and both got jobs at Sambos as dish washers. (Jay resigned after several weeks, while I was promoted to chef and stayed through high school.)
In summer 1974 I turned 16. I took my drivers test in my friend Bill Henderson's father's circa 1968 White Mercury Cougar, because it had an automatic transmission. It was build on a Mustang chassis - it looked like this:
My first license was paper and is long gone, but this one from a few years later was laminated: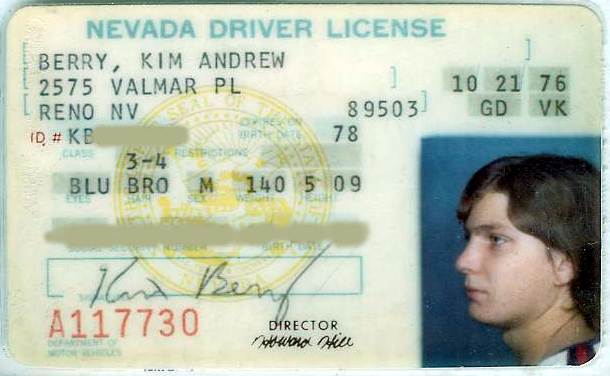 First Car: Dodge Charger
I bought a 1968 Dodge Charger, which was incredibly fast.
The car has been featured in many movies. We used to go to the drive in movies, and one of first movies we watched in the Charger was "Dirty Mary and Crazy Larry." (YouTube trailer here.)
For "fun" after work I would do things like head out the Pyramid Lake highway and bring it up to 115mph so I could hear the headers rumble. (I had installed the glass packs myself and didn't mount then well, and one fell off on the way home from this trip. But I then had a muffler shop mount them correctly.)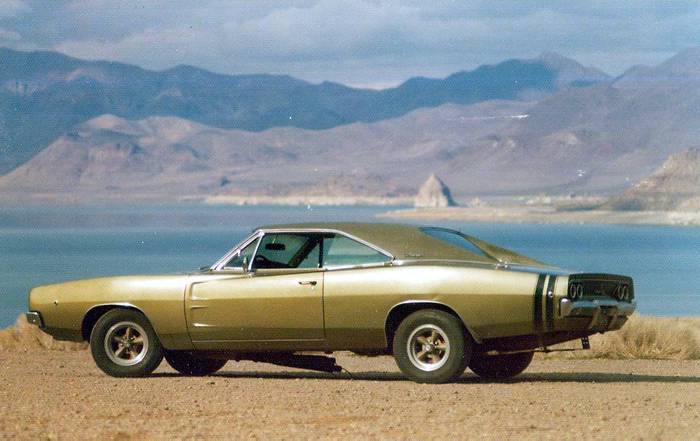 One time I drove my Charger to the top of the mountain above Verdi - looking over Boomtown towards Reno:
Here's the ad from 1968 Road and Track Magazine. (See the bottom of 2005 Car Show for more Dodge Charger ads from magazines.)
As if motorcycles and fast car weren't enough, I also bought a hang glider. I never went real high, but enjoyed flying down gentle sloping hills - such a here flying east on the hills west of Stead.
One time we were flying down into a "V" valley at seventh-street pits. This caused the wind coming up the "V" to turn to a downdraft near the bottom. I went first and warned Jay. When Jay encountered the downdraft he put his arm down when he hit, and broke his arm. I rushed him to the emergency room. We had to wait for my mother since we were both under age 18.
My mother recalls the day:
I had just arrived at the YMCA to teach my exercise class when the call came in about Jay Scott being in the ER. I handed my armload of records (songs) to one of the women who attended my class on a regular basis and told her to lead the class that night and I drove my MG to St. Mary's as fast as I could. I arrived in time to be shown the x-rays which indicated a clean, displaced break of both radius and ulna. I knew the orthopedic MD from the YMCA and as he chatted with me casually all at once he grabbed Jay Scott's arm and pulled as hard as he could forward. I was looking at Jay Scott's face at that time and he went totally white with pain and shock. My first impulse was to slug the MD in the face, but before I could respond he told me that in order to do a closed reduction (getting the bones back into place) the muscles had to be totally relaxed and the only way for that to happen was distraction on the part of the patient. Jay Scott's face during that brief moment still causes my stomach to fall.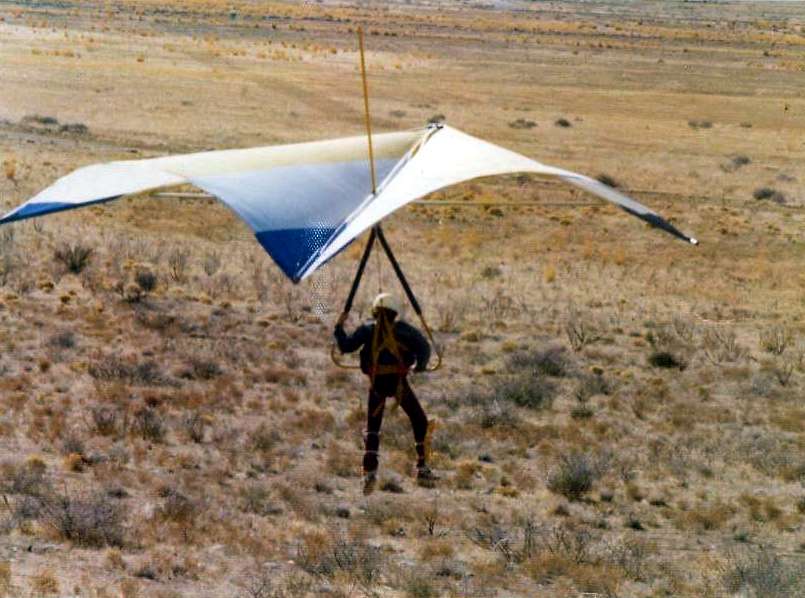 In 11th and 12th grade I worked as a cook at Sambos. It was through this job that I met my first real girlfriend, Diane Stockford.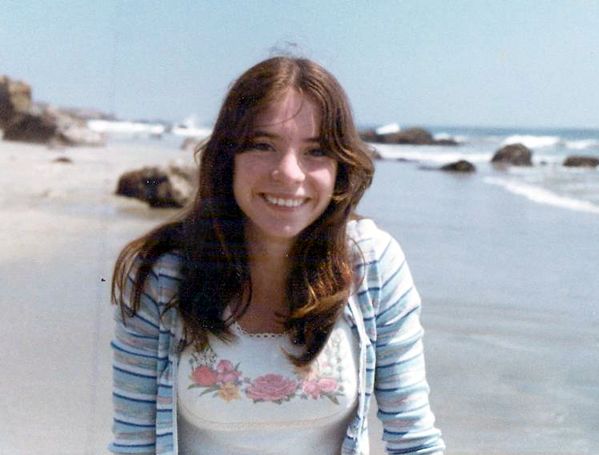 Her father, Charlie Stockford, raced on the dirt track at the Reno Fairgrounds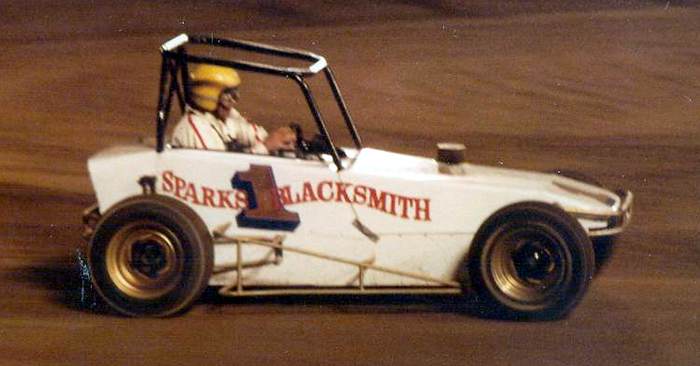 The boyfriend of Diane's sister Sandy was Mark Forbes. He had a magnetic personality and we hung out a lot. But he was the kind of guy that if you hung around too long, you go to jail. This is Mark and Kim at a large mining structure south of Virginia City - at this Google Earth link.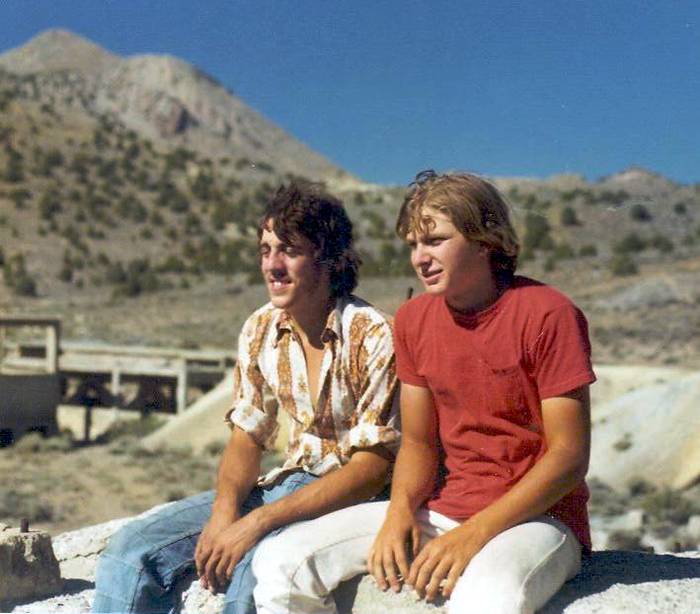 It was things like this: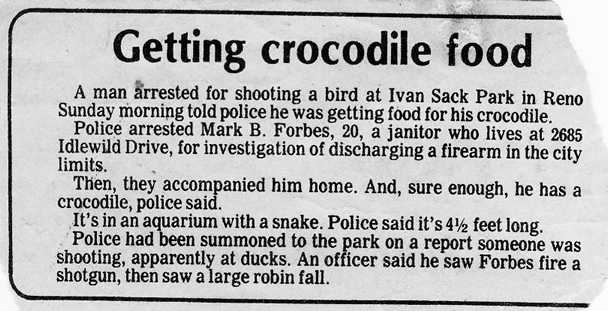 Disco
In my senior year "Saturday Night Fever" had become the rage. We would often go to a teen disco named "Yori's Disco 2000." One time I was mad at Diane for entering the dance contest with another guy "Wild Willy," So I requested a dedicated to her – and the DJ did: "The Bitch is Back – Elton John."

My brother Jay got somewhat of his start there in dance contests, age 15, he would work in some magic, doing "the robot" while appearing scarfs and cane, and get applause. Problem was the blacks were used to winning the contests. We were sitting and a group of blacks came up to our table, "I know some white boy better cool his shit before someone starts cooling it for him."
Flying Lessons
In my senior year I took flying lessons, passed my FAA exam, and soloed in a Cessna 172 at Stead Airport at age 17. (Hug High School across town offered flight grown school as an elective, so in the second semester of my senior year I enrolled in that and a government course at Hug in the morning, and then took a few afternoon courses at Reno High.)
After graduation I bought a 1974 Matador because I wanted a more reliable car. I had first seen this car in the James Bond movie "Man With a Golden Gun." Photos from that movie and more info is here.
These photos show how 6040 Verner looked before the trees were planted and the houses were build next door.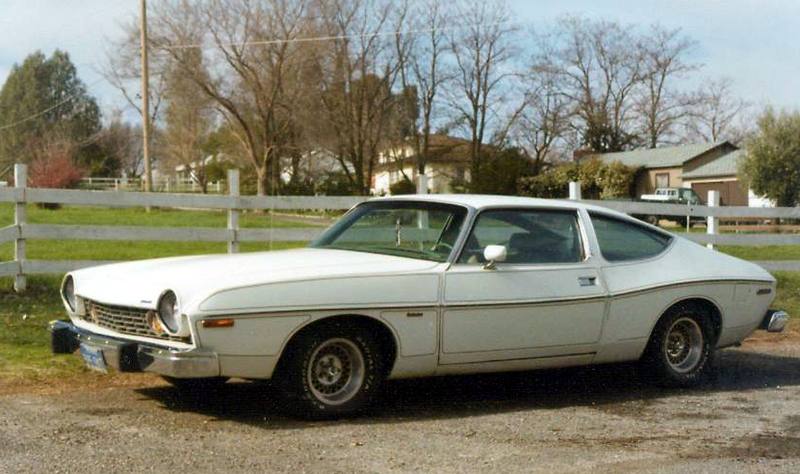 In the summer of 1976 I put my favorite songs, mostly from 45's I'd accumulated over the past 6 years, on four cassettes. Interestingly these are still popular songs - many are my karaoke favorites and are now MP3 on my Zune player (At this time the most popular format for car stereo was 8-track tape. But cassette was catching on since you could record your own):
CASSETTE A

The Archies - Sugar Sugar - (the first LP I purchased at about 4th grade)
Jim Croce - Hard Way Every Time
Helen Reddy - Peaceful
David Bowie - Golden Years
Badfinger - Baby Blue
The Doobie Brothers - Take Me In Your Arms
Vickie Sue Robinson - Turn the Beat Around
Bay City Rollers - Rock and Roll Love Letter
Steve Miller - Rock-n-me
George Harrison - What is Life
The Guess Who - Star Baby
Ringo Starr - It Don't Come Easy
Gordon Lightfoot - Sundown
Peter Frampton - Show Me The Way
Gary Wright - Love Is Alive
Andy Kim - Rock Me Gently
Family Of Man - Three Dog Night
Lobo - Another Hill To Climb
Rolling Stones - Brown Sugar
The Beach Boys - Fun Fun Fun
The Sylvers - Boogie Fever
xx - My Maria (later recorded by Brooks & Dunn)
T. Rex - Get It On
Van Morrison - Brown-eyed Girl
The Eleventh Hour - Hollywood Hot (was hard to find)
Gallery - It's So Nice To Be With You
Joan Baez - The Night They Drove Old Dixie Down
America - Sister Golden Hair
Eric Carmen - I Wanna Be With You
The Southerland Brothers - Arms of Mary

CASSETTE B

Neil Young - Cinnamon Girl
Jefferson Starship - Miracles
Simon and Garfunkel - Mrs. Robinson
The Doobie Brothers - Another Park, Another Sunday
The Doobie Brothers - Already Gone
The Doobie Brothers - James Dean
Jim Croce - Age
The Allman Brothers - Ramblin Man
Dan Fogelberg - Part of the Plan
Norman Greenbaum - Spirit In The Sky
The Guess Who - Star Baby
Cat Stevens - Oh Very Young
Sweet - Fox On The Run
B. J. Thomas - The Eyes Of A New York Woman
C. W. McCall - There Won't Be No Country Music (There Won't Be No Rock 'N' Roll)
County Joe McDonald - Save the Whales
Rare Earth - Get Ready
The Zombies - Time Of The Season
The Lovin Spoonful - Do you Believe in Magic?
Steppenwolf - Magic Carpet Ride
Lobo - Me And You And A Dog Named Boo
Beachboys - Surfin USA
The Rolling Stones - Angie
Paul Revere & The Raiders - The Shape of Things to Come
Ohio Express - Chewy Chewy
Paul McCartney - Junior's Farm

CASSETTE C

Neil Diamond - Cherry Cherry
Tommy Roe - Jam Up And Jelly Tight
The Grass Roots - Midnight Confessions
Royal Guardsmen - Snoopy Christmas
The Searchers - Love Potion Number 9
Smokey Robinson - Tears of a Clown
The Bee Gees - Jive Talkin'
Tommy James & The Shondells - Mony Mony (1968)
The Who - I'm Free
Barry Manilow - Somewhere in the Night (bought)
Simon and Garfunkel - I Am A Rock
Bay City Rollers - Money Honey
Kenny Rogers - Ruben James
?? - Patriot's Dream
?? - Universal Soldier
Linda Ronstant - Heat Wave
Three Dog Night - Shambala
Ohio Express - Firebird
Van Morrison - Domino
Neil Diamond - Solitary Man
Cher - Gypsies, Tramps and Thieves
Firefall - Livin ain't Livin
Jim Stafford - Swamp Witch
Lynyrd Skynyrd - Sweet Home Alabama
Boxtops - The Letter
Kiss - Rock and Roll all Night
Tommy James and the Shondells - Crimson and Clover
The Bay City Rollers - I Only Want to be With You
The American Breed - Bend Me Shape Me
Jim Croce - Working at the Car Wash Blues

CASSETTE D

Jet/Wings/McCartney - Venus and Mars Rock Show
The Guess Who - Road Food
Bobby "Boris" Pickett - Monster Mash
Harry Chapin - Cats in the Cradle
Grand Funk Railroad - Bad Time (To Be In Love)
The Partridge Family - Bandala
The Byrds - Turn! Turn! Turn! (from the Book of Ecclesiastes)
Eagles - Take it Easy
Lee Michaels - Do You Know What I Mean
Elton John - The Bitch Is Back
Edgar Winter - Round & Round
Doobie Brothers - Black Water
B. J. Thomas - Hooked on a Feeling
Blue Oyster Cult - Don't Fear the Reaper
Boston - More Than a Feeling
Paul Revere And The Raiders - Mr. Sun, Mr. Moon
Neil Young - Heart Of Gold
Neil Diamond - New York Boy
Three Dog Night - One Man Band
The Association - Enter The Young
Billy Ocean - Love Really Hurts Without You
Jimmie Rogers - Kisses Sweeter Than Wine
Defranco Family - Heartbeat, Its a Lovebeat
The Partridge Family - Lay it on the Line
Zager & Evans - In The Year 2525
Jim Croce - Thursday
Joni Mitchell - Both Sides Now
Jimmie Rodgers - Honeycomb
Lynyrd Skynyrd - Sweet Home Alabama
Also after graduation I worked as a chef at John Ascuaga's Nugget in Sparks for about six months. Then I moved to Sacramento to live with my father and figure out what I wanted to do.
I found a job at the Formica Factory and enrolled at American River College.
Jay moved to Hollywood in fall 1978 and got a Job at Hollywood Magic.
Here we are at Griffith Observatory:
In 1978 I purchased a condo, 4533 Greenholme Drive #2 for $23,500, and sold it a year later for $34,000. I didn't get a phone for a few months, so one time to reach me my mother sent me a Mailgram:
In 1979 I moved back to Reno for a year. From July through October I worked at WES Construction. Then I worked at Jensen Precast until I returned to Sacramento in fall 1980 to complete my AA degree at American River College.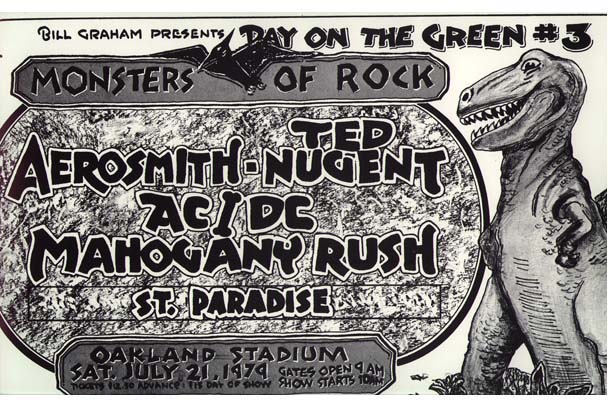 On my 21st birthday Randy and I had met some girls at the MGM Grand Hotel arcade the week before and they invited us to visit them in Marin County sometime. There was a Day On the Green with AC/DC. We drove down the night before arriving after dark. We were nervous ringing the parent's doorbell. A guy (the father) answers the door nude, offers us drinks, and suggests we strip and join them in the hot-tub and pool in back. They had covered their backyard so indeed they had an indoor swimming pool. Holy cow! Well still Randy and I slept on the floor in the living room and we all went to Day on the Green the next day.
That is Bon Scott with no shirt. I recall the moment I read in the Reno newspaper of his death on February 19, 1980. He had died of hypothermia being left in a car in below freezing weather after too much drinking. (I believe I had come close to dying just a few months prior under similar circumstances.)
| | |
| --- | --- |
| This is my actual ticket! | |